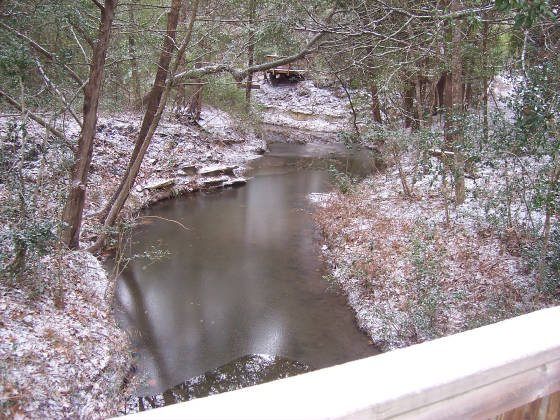 Bridge over Serenity Creek . When you sit on the deck of Del's Retreat, you look straight out at the bridge. Go ahead, walk over it, look down at the fish below and the rocky outcrops where ferns grow. The land on the other side is ours too, so enjoy the tree-covered meadow all the way up to the next road.
**********************************************
Centered in the heart of the Texas bluebonnet country at a point where the counties of Washington, Austin and Fayette come together, you will find a refreshing little rocky creek with rippling waterfalls that cuts through beautiful rolling hills of Central Texas. At one time, the cedars, oaks and sycamores were so tall and lush that daylight hardly reached the ground. Here you will find a get away from the stress of the city life, a place to go back to nature, a place to find yourself. Here you will find our treasure, our solitude, our gift to you...
Trails West Retreat.

When current owners Betty & Del Meischen stumbled upon this gorgeous little wilderness, they were so fascinated with its beauty that they decided to share it with others seeking the solitude and serenity of back-country nature. No matter which way you get there, the drive through the rolling countryside is breath-taking. Hilltops where you can see for miles and miles are followed by lush valleys punctuated with quiet streams. The tranquil rural countryside fills with bluebonnets and a myriad of other Texas wildflowers in the spring.

Trails West is a wonderful place to bring your children for a weekend of citystyle-camping in the heart of the Houston-Austin-San Antonio triangle. Get away from the stress of the concrete jungle to the comfort of a small cabin with all the modern conveniences or get back to nature, roughing it in your own tent. We strive to be kid and pet friendly!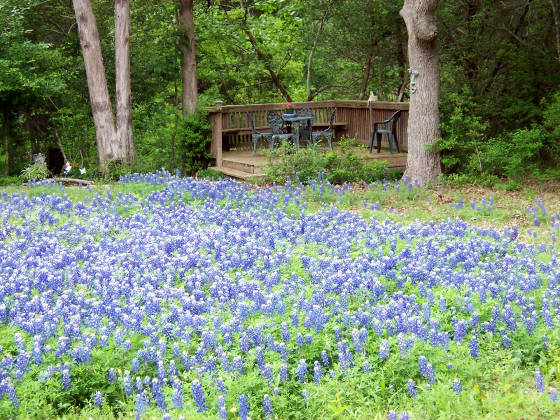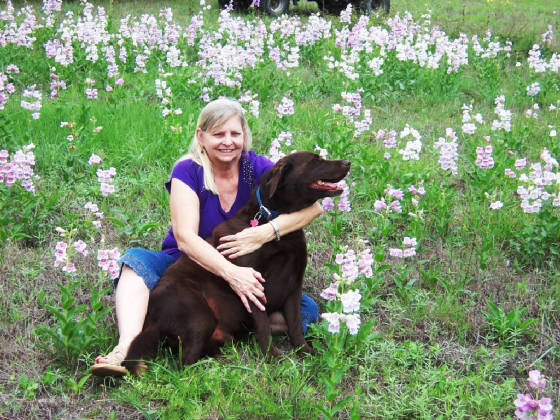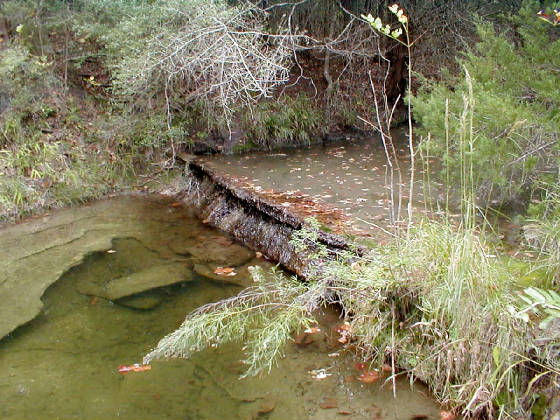 This is the waterfall picture in the Story of Trails West. Click to go there.
The very first picture ever of our little waterfall on the day Betty fell in love with what came to be Trails West. This is the picture that Betty sent to her daughter Becky after discovering the little pool with fish in it described in the story of Trails West.

Located in an area rich with Texas colonial history, Trails West is 5 miles from Roundtop, Texas and 1 mile from the University of Texas facility at Lake Winedale. Take in a Shakespeare play. Don't miss the outstanding, talented musicians in concert at Festival Hill near Round Top. Additionally, we're just a short distance to many antique mecca's such as the quaint towns of Warrenton, Shelby, Fayetteville, Burton, Brenham, LaGrange and Bellville. Throughout the year, antique festivals run continuously in this area. There are plenty of good places to eat nearby or bring the fixin's and grill it yourself.
When the days get cooler, it is great to sit around a campfire and spin a few yarns or sing a song or two. You need to get away, so come on out. We'll keep the lights on for you!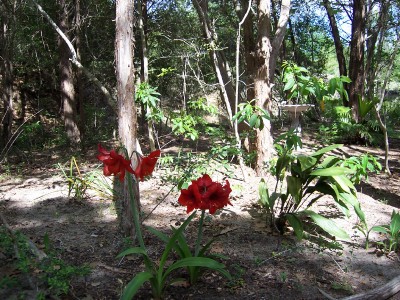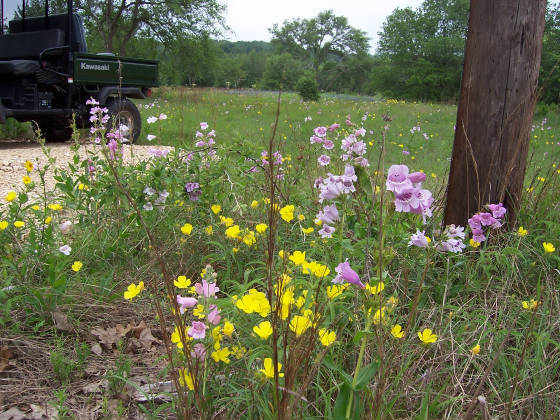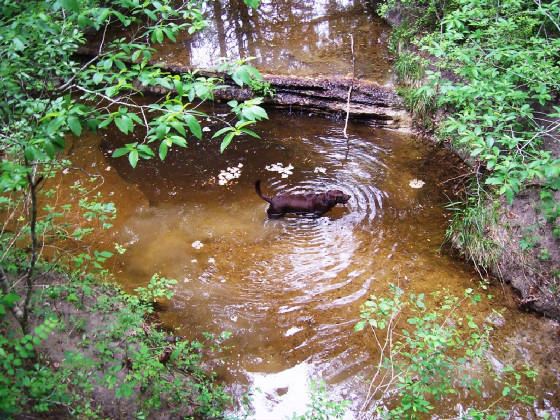 Rebecca's Cabin looks over Stephanie's Garden and the creek beyond that.
Stephanie was our 21 year old neice who drown in the Guadalupe River. Her dad planted two cypress trees in this garden on the day a memorial was dedicated to her at nearby Luther Hill (2004).

The water in Serenity creek is crystal clear most of the time. We like to watch the fish swim about. At night, generally the only sound you hear is the croaking of the frogs along the creek. The stars are so bright out here at night.

When we bought this place on March 4, 2004, it was totally thick and tangled, a wilderness so dense, we had to hack our way through. So everything from well, septic to electricity, clearing & rock for the roads had to be accomplished. Trails West Retreat is a constant work in progress so bear with us as new things continue to happen monthly.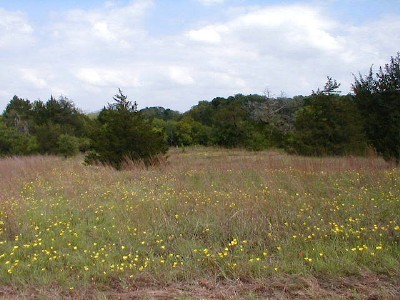 One of the first pictures we took when we had purchased the land that became Trails West Retreat. Of the many things that attracted us to this little piece of Washington County wilderness, the abundance of wildflowers was high on the list. We found many species that we had never seen before...for instance beautiful lilac colored foxglove growing wild. Of course there were bluebonnets and Indian paintbrush in the Spring but we found so many various other flowers growing most months of the year. We are allowing wild grasses and flowers to reseed so we will not cut or shred as often to allow their natural growth patterns.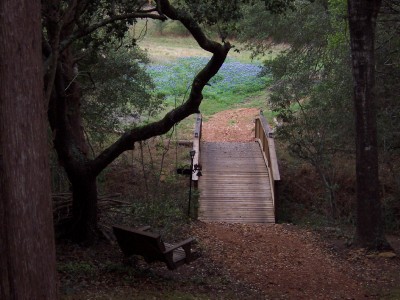 Springtime north of the Bridge view of a beautiful patch of bluebonnets.
Great idea for a gift! Kids from all over the USA booked a cabin for their parents' 50th wedding anniversary. The Lewis's absolutely loved their 4 day stay in Rebecca's cabin. The children also bought them tickets to a concert at Festival Hill. We can arrange for a greeting basket, wine or champagne and/or flowers to be in the cabin awaiting their arrival. Just tell us what and how much you want to spend!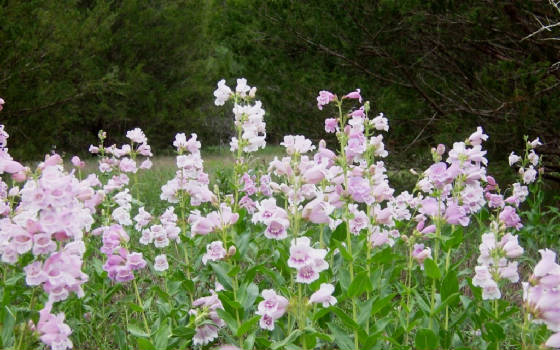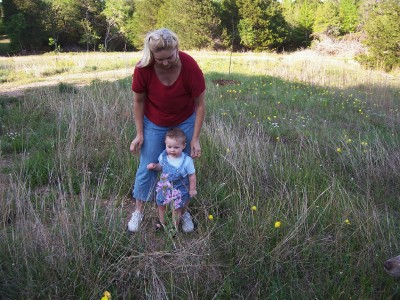 Betty with Grandson Jake admiring the wildflowers. Before him is a specimen of wild foxglove.
View of the bridge from Del's bench in Monique's Garden. Our daughter-in-law Monique Meischen, wife of our eldest son Jeffrey, died suddenly of a brain tumor on February 24, 2004, one week before our grandson Jake was born. We were supposed to close on this little piece of Texas wilderness the next day but instead closed on it the day after Jake was born. We dedicated this garden to her memory.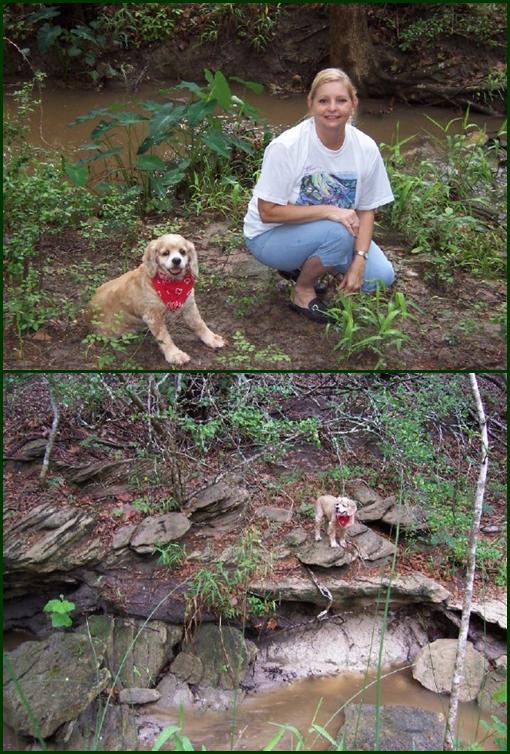 Betty with her cocker spaniel Lady on a rock outcrop above Serenity Creek. Most of coastal Texas near the Gulf is flat with no rocks anywhere. So to find here at the border between the hill country and the coastal region a pretty rock outcrop like this was completely fascinating to me.
ENTRY OF TRAILS WEST RETREAT

We wanted a more rugged look to our entry. The iron work sign hanging over the entry was handmade, forged in the old Bellville Blacksmith shop by Cowboy Syzmanski.
Our son Jeffrey and his daughter Jenna just couldn't resist a little dip in the cool water of our serene creek on a hot summer day.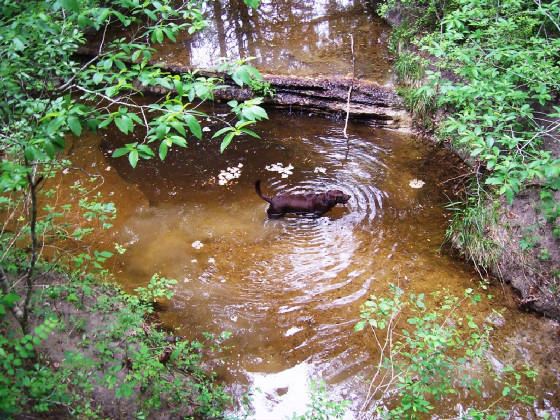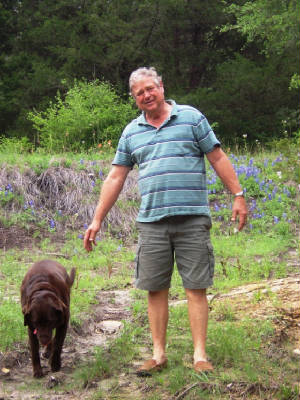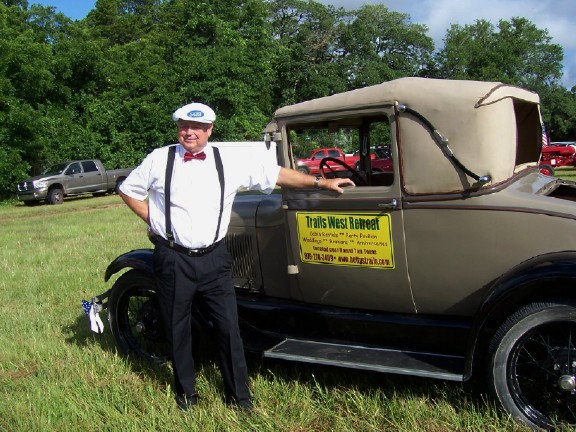 Del and Betty entered the 1928 Model A Ford in the Round Top 4th of July parade in 2008.
Did you know that the 4th of July parade at Round Top is the oldest and one of the longest in Texas?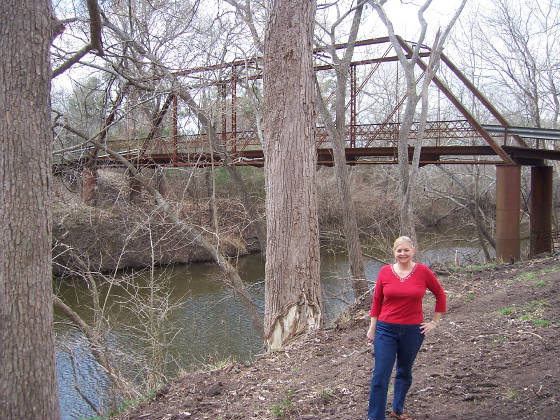 Betty has always been fond of old bridges and the Cummings Creek bridge between Trails West and Fayetteville is one of the last in this area of its kind--a real page out of the past. The scenery around Trails West Retreat is wonderfully pastoral and rural, punctuated by rolling hills with woodlands and flower covered meadows. People come from Houston, Austin and San Antonio on the weekends to enjoy this breath of fresh air and to eat in little country towns like Fayetteville, Warrenton, New Ulm and Carmine.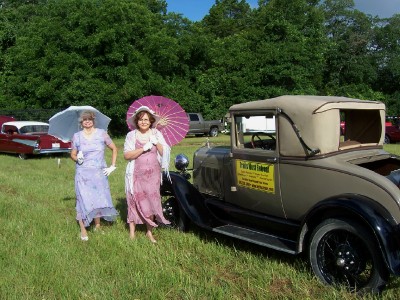 Two hot ladies! Betty & sister-in-law Pat, Stephanie's mom, ready to climb in the rumble seat and roll.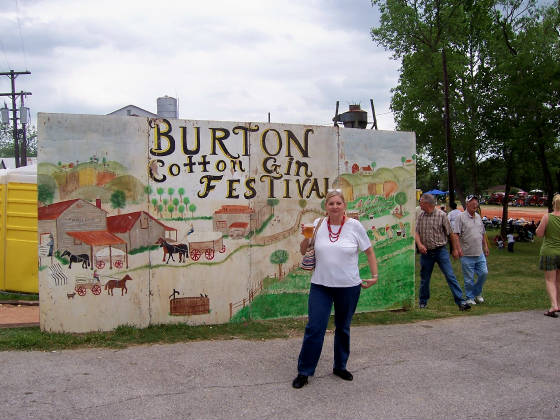 Who doesn't know about the spring and fall antique festivals at Round Top but do you know that nearby Burton has an annual Cotton Gin Festival. Yep, they start up one of the oldest cotton gins in the nation and bale some cotton every spring, along with a tractor pull event and a parade. Lots of fun!!